Bodies of Dispersion: Mechanisms of Distention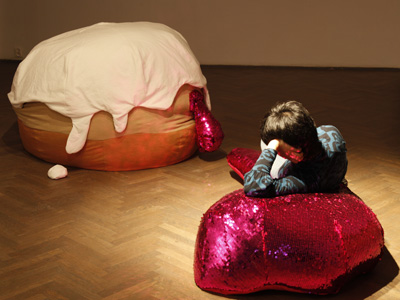 Øyvind Renberg (Norway) and Miho Shimizu (Japan) participate in a group exhibition with Alex Villar (USA), Elin Wikström (Sweden), spurse (USA), eteam (USA), xurban collective (USA) and Artur Zmijewski (Poland).
Curator: Denise Carvalho (USA).
Assistant to the Curator: Brooke Chroman (USA).
Opening: Friday May 21, 2010, 5:30 p.m.
Polish doughnut Paczki will be served.
Exhibition is until June 20, 2010.
Discussion panel: Saturday May 22, 2010, 12:00 a.m.
Panelists: Denise Carvalho, Jaroslaw Lubiak, Ginger Shulick, Marek Wasilewski.
The exhibition examines the relationship between the singular body and its mechanisms of multiplicity in everyday life. Within 'Bodies of Dispersion' Renberg and Shimizu exhibit the series Art of Cheese and Rio Porcelain, projects that look into the translation of social codes and culture between communities'. New piece in the series: Paczki sofa.
Arsenal Gallery, ul. A. Mickiewicza 2, 15-222 Bialystok, Poland.
e-mail:mail@galeria-arsenal.pl / www.galeria-arsenal.pl
Gallery is financed by the City of Bialystok.
The exhibition is held as a part of the 25th Days of Modern Art.
Project partner: New York Foundation for the Arts, with the financial
aid of the Trust for Mutual Understanding.
Project carried out with the funds of the Ministry of Culture,
National Heritage, Office for Contemporary Art Norway.
Gallery media patronage: Gazeta Wyborcza, TVP Kultura,
Polskie Radio Bialystok.