Upstream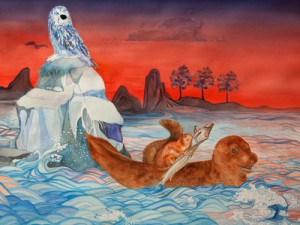 Opening Friday October 15th, 7 – 9 PM
Opening times:
Hordaland Art Centre: Tuesday-Sunday 12-4 PM
Klosteret 17, Nordnes, Bergen
www.kunstsenter.no
Documentation at Hordaland Art Center website
The two artists Øyvind Renberg and Miho Shimizu have collaborated since the early 2000s. For several years they used the name Danger Museum, a flexible group name which could hold both themselves as well as all their collaborators. They move around and on the art scene, but not always within the art institution. Thus the exhibition Upstream is like a special appearance.
They are preoccupied with analyzing the relation we have to the image world and the mass produced objects we are surrounded by. A preoccupation we can recognize from several Asian countries, and maybe especially on the underground scenes of cities like Tokyo and Seoul. With the exhibition at Hordaland Art Centre we will be given a peculiar experience, when the artists apply this underground method to the cultural surface, by taking a closer look at things like the stereotypical perception of nature in Norway and how closely our memory is affected by mass produced photographs. Several of the works can be linked to the image world of both tourism and popular culture.
The exhibition Upstream is its own entity, but points both backwards and forwards in time. This is the first part of a long term collaboration between the artists and Hordaland Art Centre. Next year the artists will finish a spectacular paper work to be exhibited at Kunsthuset Kabuso in Øystese, Hardanger as part of our Outside programme. Thus Upstream holds both older works shown previously in completely different settings, as well as new works which might be shown in different circumstances on a later stage, unique watercolours and mass produced porcelain. All of this in a completely black gallery room.
In addition to the exhibition, a new cup in the Rio-series by Figgjo will be launched. The Rio series can be purchased in Bergen at Sakristiet café, Bryggen (Mon-Sun 10-17, www.kaffemisjonen.no) and at Hordaland Art Centre.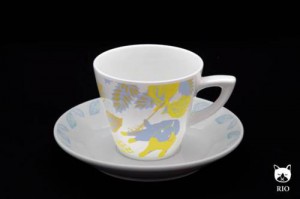 For the exhibition writer and curator Denise Carvalho has been invited to write at text to be published on www.kunstsenter on the opening day.
This is the second exhibition of the autumn 2010 at Hordaland Art Centre, where we investigate artistic collaborations in a series of three exhibitions made by artist duos. The first exhibition was made by Lutz-Rainer Müller and Stian Ådlandsvik, and the next will be made by aiPotu (Anders Kjellesvik and Andreas Siqueland).
————
Miho Shimizu and Øyvind Renberg (born in Tokyo and Oslo in 1976) graduated from Goldsmiths College, London in 2000 respectively 2001. Their collaborative work is inspired from travels, and explores cultural translations and discrepancies. Works have developed in response to museum collections, the art institution, and more loosely defined social scenes. Their practice embraces collages, tableaux, and furniture, as well as music releases and design pieces. From 2001-2009 they have been working under the collective name Danger Museum. Shimizu and Renberg have exhibited at inIVA (London), Sparwasser HQ (Berlin), Art Space Hue (Seoul), Art in General (New York), Galeria Arsenal (Białystok), and Preus Museum, Oslo Kunstforening, Stenersen Museum and UKS (Norway). Residencies include Ssamziespace (Seoul) and Peacock Visual Arts (Aberdeen).
www.dangermuseum.com / www.peanutcircuit.com
Denise Carvalho is a Brazilian-born artist, art critic, independent curator and scholar who lives and works in New York City. She holds a Ph.D. in cultural studies, an M.A. in art history from University of California, and an MA in cultural anthropology from Hunter College (NYC), as well as a BFA from School of Visual Arts (NYC). She has published widely in art magazines and journals such as Sculpture, Flash Art, Art Papers NKA Journal of Contemporary African Art, Journal of Art & Society, Cover, Review, Art in America, Art Nexus, and Afterimage, as well as in several Brazilian and European publications.
www.denisecarvalho.com
The artists would like to thank Bergen museum, Damsgård Hovedgård, Flåm utvikling, Hardanger Folkemuseum, Kaffemisjonen, Kunsthuset Kabuso, Kunstsenteret Messen og Voss Folkemuseum for their collaboration.
HORDALAND ART CENTRE based in Bergen, Norway was established 1976 as the first artist run art centre in Norway. Its activities are based around the exhibition programme with equal emphasis on seminars, presentations and dialogue. Since 1985 Hordaland Art Centre has had a residency programme, from 2008 open to international artist, curators, writers and other art professionals.
HORDALAND ART CENTRE also works with public art commissions, a regional and international Outside-programme and has since 2007 collaborated with the MA-programme at the Bergen National Academy of the Arts and has an ongoing collaboration with the 5th grade pupils at the neighboring Nordnes Primary School. There is a small bookshop with artist books and publications in our reception. We have a weekend-café. Hordaland Art Centre is situated in one of the oldest remaining school buildings in Bergen where we focus on local commitment in an international every day.