Multiple Choices Book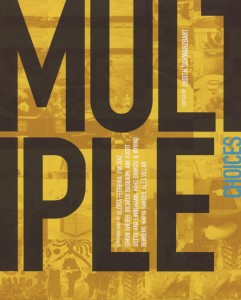 Edited by Judith Schwarzbart. Contributions by Glória Ferreira, Eva Díaz, Simon Sheikh, Ricardo Basbaum, Ane Hjort Guttu, Katya Sander, Ana Linnemann, Miho Shimizu & Øyvind Renberg, Alex Villar.
This book is an artist initiative. It grew out of a concrete situation, i.e. the exhibition Multiple Choices – all of the above (Oslo Kunstforening, 2008), and reflects a wish to continue and carry further a discussion that started on the occasion of the exhibition. The publication is, therefore, neither a catalogue, a theoretical anthology, nor is it an art book. It is simply a discussion played out between several positions and approaches within and across contemporary art, curating, and critical thinking. Clearly the topic transgresses theory and practice as much as art practice, curatorial practice, and writing as practices. The contribution artists reflect on the means of address and the conditions for the audience's encounter with the work. Doing this, they insist on making decisions often left to the curators or institutions, and in this way they blur the borders between professional roles in an interesting and productive manner.
The book has a focus on relationality since this is a shared concern by many of the artists featured there, but it also seeks to understand the active processes at play in the spheres that contain those practices. This is more clearly the case with the contributions of the writers. Glória Ferreira for example utilizes the Derridean notion of Hospitality to demonstrate that there is a different logic at work in the organization of the collective artistic assemblage as well as in the relation between art practice and those intersected by the artistic gestures. Eva Díaz sought in the closing gap between artistic intervention and the social terrain of its deployment a more radical democratic sphere, an agonistic sphere as defined by Chantal Mouffe, a theorist Díaz engages in her text. Simon Sheikh's tackles the very notion of a public sphere in a critical treatment of the work of Harbermas. While building upon a concept by Cornelius Castoriadis, Sheikh posits a counter- hegemonic imagining of the social sphere.
Distributed by
TORPEDO PRESS
Trelastgata 3
pb 9297 Grønland
N-0134 Oslo Norway
www.torpedobok.no
Published by
Oslo Kunstforening
www.oslokunstforening.no
Support:
The Multiple Choices book was supported by OCA (Office for Contemporary Art Norway), Fritt Ord and the Arts Council Norway.