Art and its institutions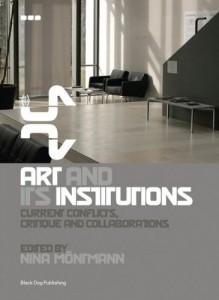 Editor: Nina Möntmann
Paperback: 191 pages
Publisher: Black Dog Publishing (June 1, 2006)
Language: English
ISBN-10: 1904772501
ISBN-13: 978-1904772507
Product Dimensions: 8.9 x 6.4 x 0.7 inches

Can be purchased at Amazon.com.
Publication Date: June 1, 2006
Art and its Institutions is a comprehensive reader on current institutional conditions and the role of institutions within artistic processes, offering a powerful insight into the diversity of art institutions and their practice today. The book examines the interests of the various institutions involved in the production and mediation of art.