An Clar Glas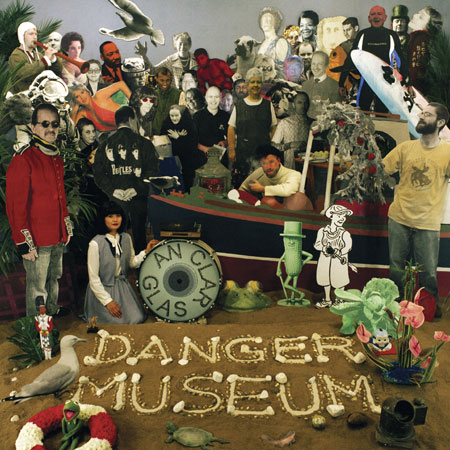 1st August – 6th November 2005, Peacock, Aberdeen, Scotland
An Clar Glas (The Grey Album) investigates ideas of community, pop culture and the art institution through the iconography of the Beatles' Sgt. Pepper album. The project culminated in a re-shoot of the iconic album cover in Aberdeen in the autumn of 2005. It features a mix of Aberdeen locals, Beatles fans and historic icons alongside the two Danger Museum members.
An Clar Glas was produced during the LOCALE residency at Peacock Visual Arts in Aberdeen in 2005. We chose to work with the Beatles in response to the LOCALE brief, which challenged the resident artists to collaborate with audiences outside the art scene. As first-time visitors to Aberdeen, the Beatles became a common ground to meet and get to know the city and some of its citizens.
Over three months we initiated events at Peacock, perhaps unlike that of an art gallery, such as karaoke nights and screenings of rock movies, attracting a curious mix of Beatles fans and gallery visitors. Some of these appear in the Sgt. Pepper re-shoot. One is granite worker Jim Reid, who followed the development of the set, in his lunch breaks.
Parallel to this, we sampled material from around Aberdeen: Photos of animals in the Hazlehead park, seagulls from the beach, vegetation from the Duthie Park Winter Garden, beach sand, oil and maritime items.
As a loose guide, we followed tips from Peacock staff. Like Peter Blake originally asked the Beatles to list ideal audiences for their cover, we asked the staff to list people they would like to feature. So amongst those appearing in the piece are shop owner S. Yaseen from the George Street Spice Shop, and Beryl Reid from the Square One hardware shop side by side with more lofty wishes such as Liz Taylor and Jesus.
A 1000 edition poster in LP cover format is produced from the shoot. You can purchase at Peacock Visual Arts shop. From production of image: Preparation image and the piece.
PEACOCK visual arts is the leading contemporary art ins titution in the North-East of Scotland, providing print-making, digital imaging, video and photography facilities as well as an innovative programme of international exhibitions and projects.
PEACOCK visual arts
21 Castle Street, Aberdeen AB11 5BQ, Scotland
Admission free, Opening Hours Tuesday – Saturday: 9.30am – 5.30pm
Telephone: +44(0)1224 639539, Fax: +44(0)1224 627094, http://www.peacockvisualarts.co.uk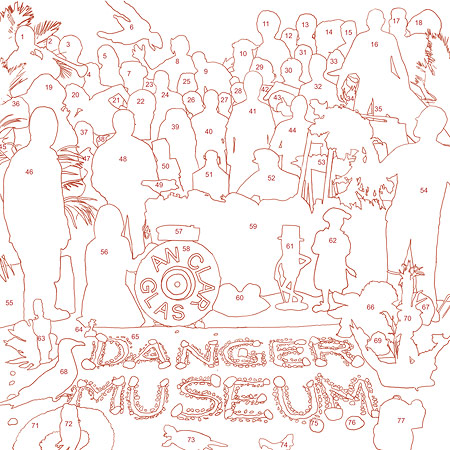 1. Medieval musician, 2. Ewan Clark , 3. Liz Taylor, 4. Bill Hicks, 5. Martin Luther King, 6. Seagull, 7. 60's Japanese Beatles fan, 8. Hannah Arendt, 9. Muhamed Ali, 10. Lama, 11. Figurehead from the sailing ship Star of Tasmania, 12. Josephine Baker, 13. Maya Angelou, 14. Kaspar Hauser, 15. Leopold Redlinger, 16. Lindsay Gordon, 17. Wooden figure from the Old Town Jail in Stirling with Basho haiku poem, 18. Claudette Colbert 19. North Sea diver, 20. Samantha Fox, 21. Jimmy Johnstone, 22. Joey Ramone, 23. Robert Adamson by David Octavius Hill, 24. S. Yaseen, 25. Bobby Sands, 26. Ruth Clark, 27. Tommy Smith, 28. Jesus, 29. Debbie Harry, 30. Arild Andersen, 31. Peter Blake. 32. Jim Reid, 33. Goldfish (Paul), 34. Villain (Aberdeen), 35. Mahatma Gandhi, 36. Carved stone head, Stirling Castle, 37. Fiona Keenan, 38. Seagull, 39. Barbara Hepworth, 40. Craig Willox, 41. Beryl Reid, 42. Sailor, 43. Dolly Parton, 44. Jim Wilkie, 45. Palm tree, 46. Jim Reid, 47. Manequin in Norwegian navy costume, 48. Jim Reid, 49. Seagull, 50. Metal Armor, 51. Ships lantern, 52. Øyvind Renberg, 53. Medieval banquet table, 54. Duncan Hart, 55. Ships chest, 56. Miho Shimizu, 57. Fidelity record player with Please Please Me, 58. Hand stitched decoration by Tokuko Shimizu on marching drum, 59. Ts. Scylla, 60. Fountain sculpture, 61. Mr. Peanut, 62. Gustav mit der Hupe, 63. Wooden figure in kilt, 64. Hula dancer figure on lava rock, 65. Sand and sand text, 66. Duncan's cabbage, 67. Duncan's potato, 68. Seagull, 69. Fukusuke, 70. Flower anchor, 71. Flower life-buoy, 72. Kermit The Frog, 73. Turtle, 74. Loose teeth from Frederick Street, 75. Peace apple, 76. Monty Python coconut shells, 77. Ship compass.